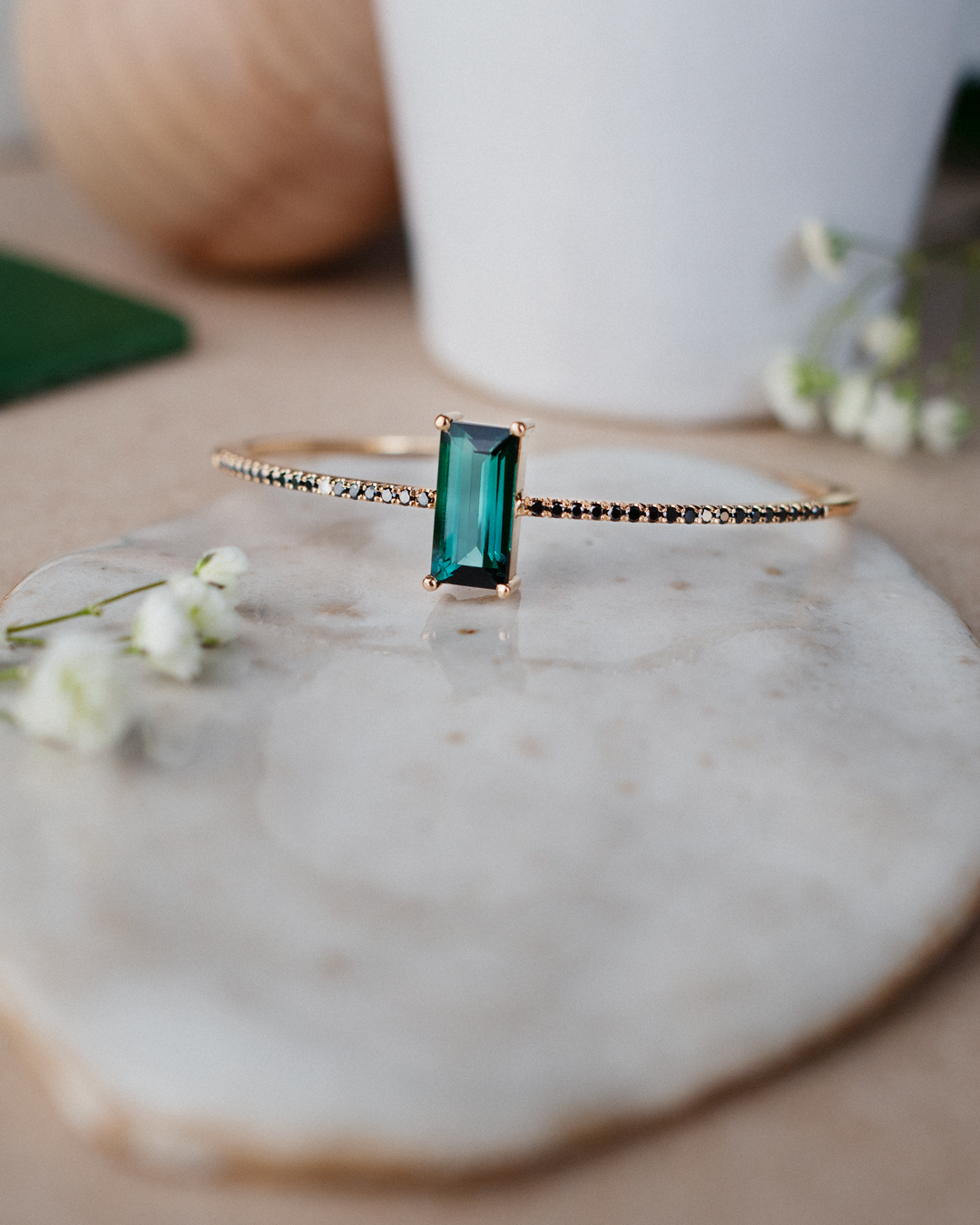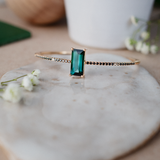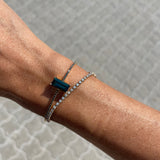 One-Of-A-Kind Jagger Cuff with Dark Green Tourmaline and Black Diamonds
---
Why you'll love it
A stunning, unique cuff to wear around your wrist.
The exclusive tourmaline used in this cuff has the most perfect dark green tone, with a natural hint of blue in the green color. Paired with black diamonds (and one sparkling white diamond), we have a match made in heaven! 
The sparkle of black diamonds beautifully accentuates the tourmaline and perfectly covers the top portion of the wrist, making it look like the diamonds go all the way around the cuff.
This cuff is a unique piece. Contact us at online@mumbaistockholm.com to create your own custom Jagger Cuff in the colors of your choice.
Gemstones 
Tourmaline
Tourmalines rank a hardness of 7-7,5 on Moh's Scale of Hardness and come in many different colors. In this cuff we have used a stunning dark green tourmaline. 
The tourmaline in this cuff originates from Mozambique. This tourmaline is completely natural and has not undergone any type of treatments. It has been expertly cut into an emerald cut and has a beautiful clarity. 

Diamonds
Are Black Diamonds real diamonds? Yes! 🖤
Black diamonds are in general diamonds with a huge number of inclusions; small impurities. This large number of inclusions is enough to change the color!
Nonetheless, to achieve the solid, black color that is significant of black diamonds, the stones are often treated to become solid black. Until this day, it is still not possible to trace which black diamonds have been treated and which have not. 
The white diamond used in this cuff is in quality F-G VS. Unlike white diamonds, black diamonds are not graded with standard color and clarity gradations.
Diamond ranks a 10 (highest) on Moh's Scale of Hardness. Diamonds are extremely hard and durable and will withstand daily wear for many years to come.
We use only natural, conflict-free diamonds certified according to the Kimberley Process.
Stacking
Wear Jagger Cuff alone as a statement piece. Trust us, you won't need anything else on your wrist! 
Details
Made from 100% recycled 18K gold
3 mm high and 1.5 mm wide band. 
1 x 3.06 CT (12.4 x 6 mm) Emerald-Cut Dark Green Tourmaline.
35 x 0.01 CT Round Black Diamonds.
1 x 0.01 CT Brilliant Cut Diamond, quality F-G VS. 
Total CT weight: 3.42 CT
We only use natural, conflict-free diamonds.
Size and Fit
This is a very comfortable bracelet that fits snugly around your wrist. 
The standard size of this bracelet is size 3, which can be sized up or down slightly to fit a majority of women. If you are buying for someone, we suggest you choose this standard size.
If you are buying for yourself - please measure your circumference around your wrist in cm and choose the equivalent size. 
It is possible to adjust the size of this bracelet afterwards. 
Production and Delivery
Want to order a similar cuff? Email us at online@mumbaistockholm.com.
Please note that it is not possible to pick up an online order from our showroom in Stockholm. 
All mumbaistockholm jewelry pieces are final sale. 
---
One-Of-A-Kind Jagger Cuff with Dark Green Tourmaline and Black Diamonds
Size & Fit

Free Sizing Kit

Ensuring your perfect fit, effortlessly. Simply add it to your cart at no extra cost!

Perfect Fit Promise

Once in your hands, this ring offers the flexibility to fine-tune its size for a perfect fit.
Production and Delivery

Crafted with Care

Kindly allow 6-7 weeks for our artisans to handcraft your unique piece in our studio.

Special Date in Mind?

Should you have a particular date you're aiming for, kindly mention it in the text box during checkout. While we strive for perfection, please understand that we cannot guarantee delivery on that exact date.

Final Touch of Luxury

Please note, all mumbaistockholm jewelry pieces are final sale, embodying our commitment to crafting timeless treasures.