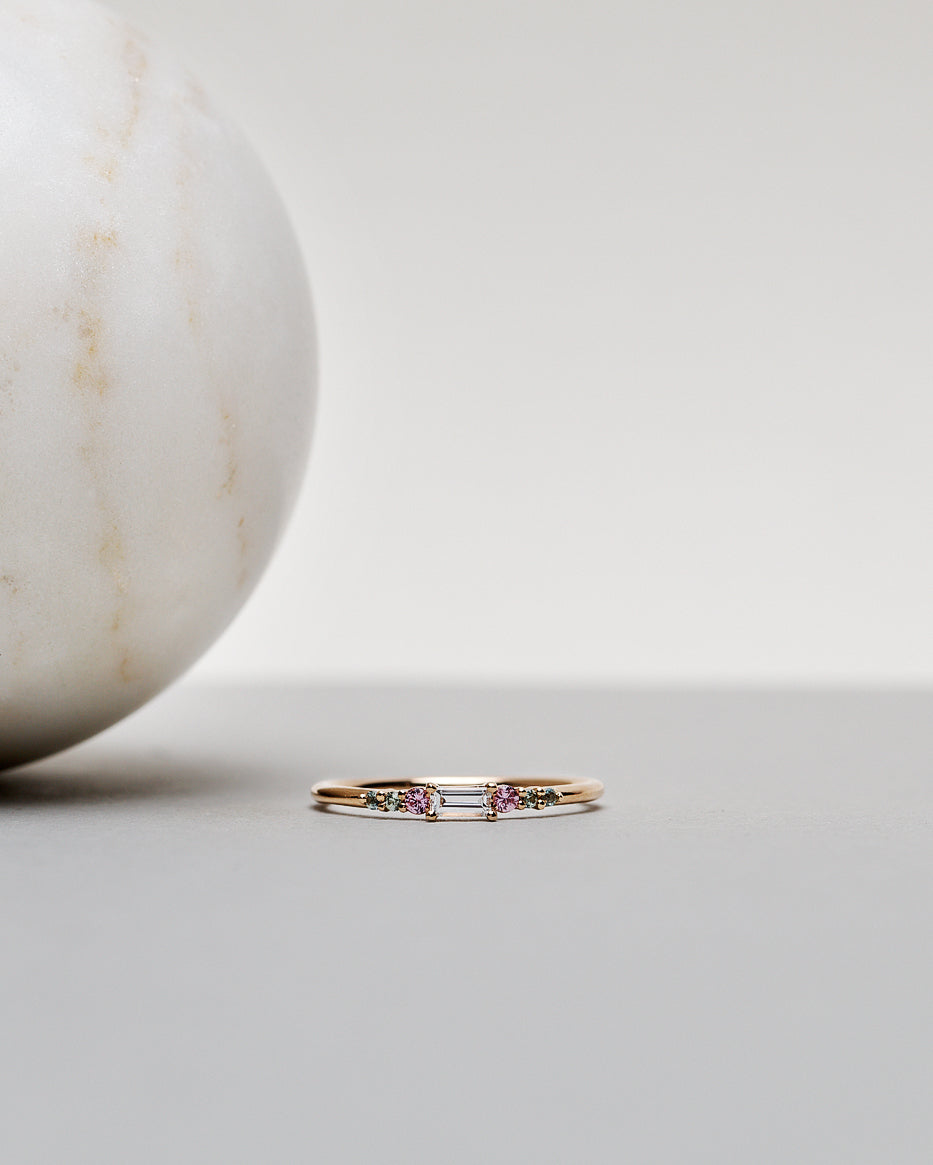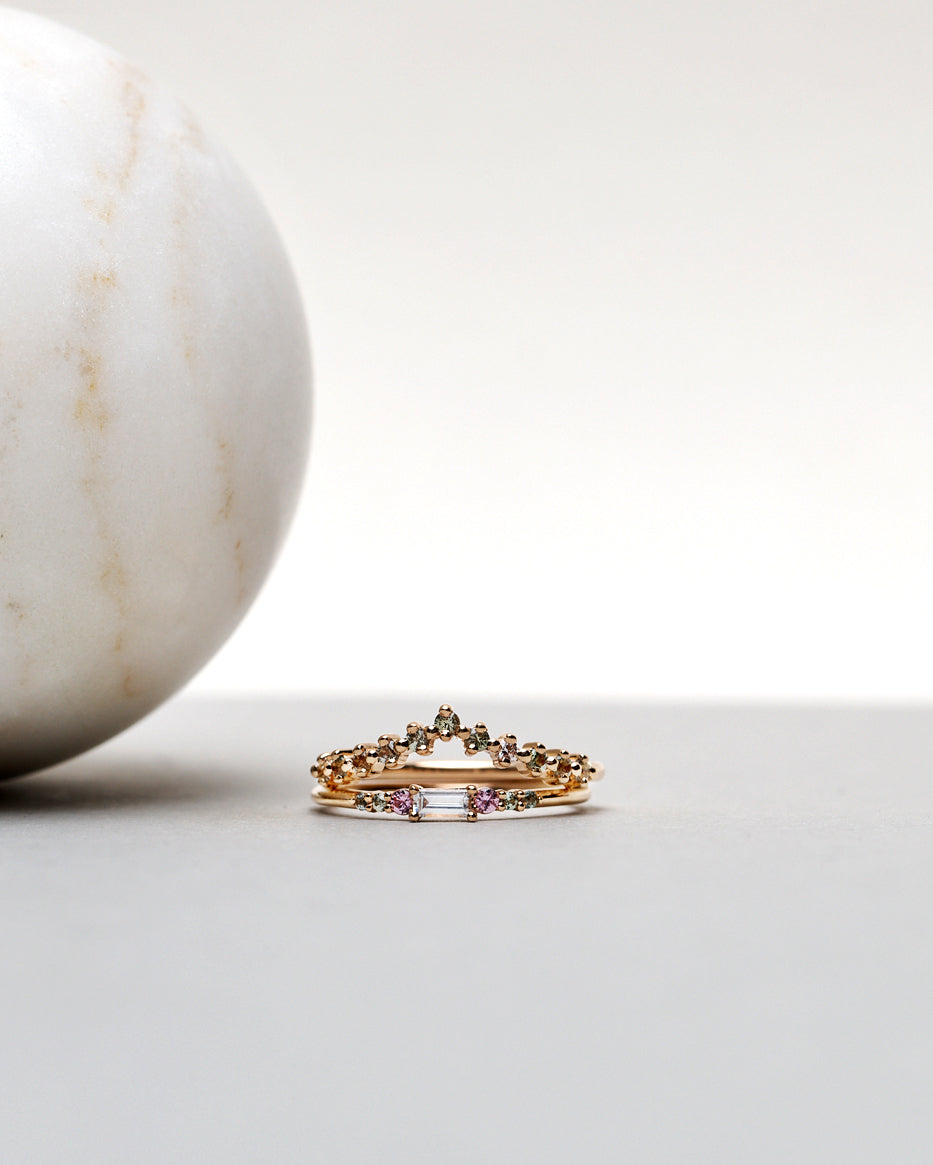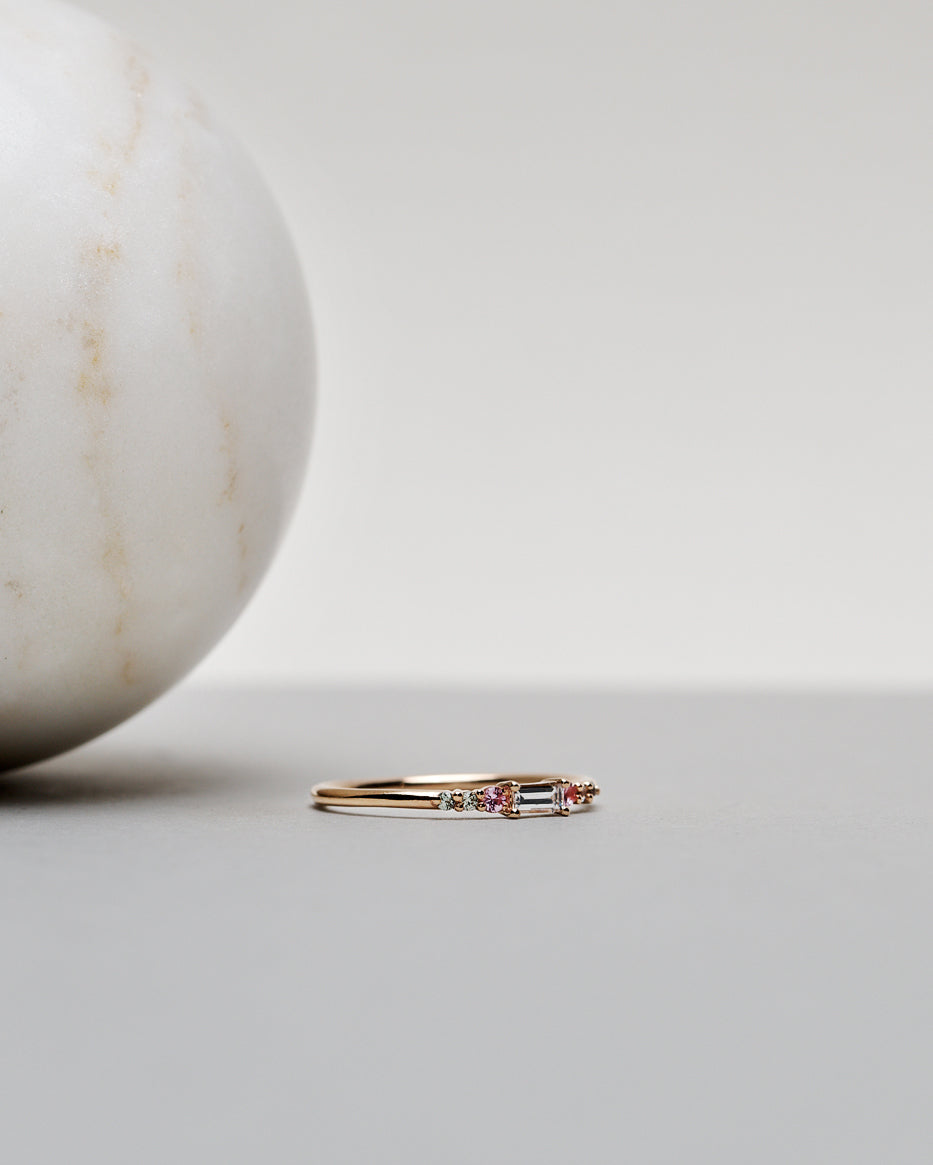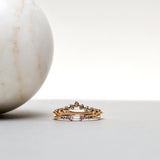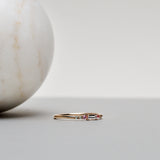 Finished: Mini Baguette Brilliant Cluster Ring with Baguette Diamond TWVS, Brilliant Olive Green Sapphires and Brilliant Light Pink Sapphires
---
Why you'll love it
This week, you have the chance to bid on a brand new, colorful ring.
This charming mini cluster ring features an approx. 0.10 CT baguette diamond and sapphires in a lovely color combination. 
Mini baguette-cut diamonds are more costly than the same size of brilliant-cut (round) diamonds – simply because the baguette diamonds are more difficult to cut! 
This ring is brand new and has only been on show for a few weeks in our showroom.
Gemstones 
Sapphire
Sapphire ranks a hardness of 9 on Moh's Scale of Hardness. Sapphires have excellent durability and will retain their beauty for many years, even with daily wear.
Diamond

Diamond ranks a 10 (highest) on Moh's Scale of Hardness. Diamonds are extremely hard and durable and will withstand daily wear for many years to come.
Our colorless (white) diamonds are in quality Top Wesselton VS.
We use only natural, conflict-free diamonds certified according to the Kimberley Process.
Stacking
This ring is beautiful worn alone on the ring finger or middle finger. It also stacks wonderfully with a curved band or a thin gold band.
Here stacked with:
- Diamond Triangle Ring with Olive Green Sapphires and Diamond TWVS (Keep an eye out on future auctions for this ring!)
Details
Made in Sweden from 100% recycled 18K yellow gold.
1.3 mm round ringband
One approx. 0.10 CT (4x2 mm, can weigh up to 0.12 CT) Baguette-cut Diamond TWVS, two 1.7 mm (approx. 0.02 CT) Light Pink Sapphires and Four 1.25 mm (approx. 0.01 CT) Olive Green Sapphires.
Total CT weight: approx. 0.18-0.20 CT.
Retail value: SEK 15,990 / EUR 1559.
Size and Fit
The round, thin ringband makes this ring comfortable to wear. 
This ring is in size 17.25 / 54 but can be adjusted to any ring size at an additional cost of SEK 750 (EUR 75) that will be charged separately after the auction ends. 
We suggest you order your normal ring size.  
Delivery
Can be shipped in time for Christmas (without size adjustment)!
Please allow two weeks for size adjustment.
All mumbaistockholm jewelry are final sale.  
Payment 
After the auction ends, the winner has 24 hours to complete the payment. 
Bidders in Sweden, Austria, Denmark, Finland, Germany, the Netherlands, Norway and the UK can pay by Klarna, Credit Card or PayPal.
International bidders from other countries can pay by Credit Card or PayPal.
Please note that offers and promotions do not apply when you shop from our auctions.
Tip To Win The Auctions
Read all about the auctions, including strategies and tips to win your dream piece in this handbook.
A hot tip:
We suggest you wait no longer than 1 minute before the auction ends to place your bid. Many people have the same strategy, and someone else's bid could become the final and winning bid. 
A proxy can help you with this. Setting a proxy amount that is equal to your maximum bid ensures that even when you wait to make your last bid, someone else needs to bid HIGHER than your secret proxy to win – otherwise you will win automatically!
Good luck!
---
Finished: Mini Baguette Brilliant Cluster Ring with Baguette Diamond TWVS, Brilliant Olive Green Sapphires and Brilliant Light Pink Sapphires
Size & Fit

Free Sizing Kit

Ensuring your perfect fit, effortlessly. Simply add it to your cart at no extra cost!

Perfect Fit Promise

Once in your hands, this ring offers the flexibility to fine-tune its size for a perfect fit.
Production and Delivery

Crafted with Care

Kindly allow 6-7 weeks for our artisans to handcraft your unique piece in our studio.

Special Date in Mind?

Should you have a particular date you're aiming for, kindly mention it in the text box during checkout. While we strive for perfection, please understand that we cannot guarantee delivery on that exact date.

Final Touch of Luxury

Please note, all mumbaistockholm jewelry pieces are final sale, embodying our commitment to crafting timeless treasures.