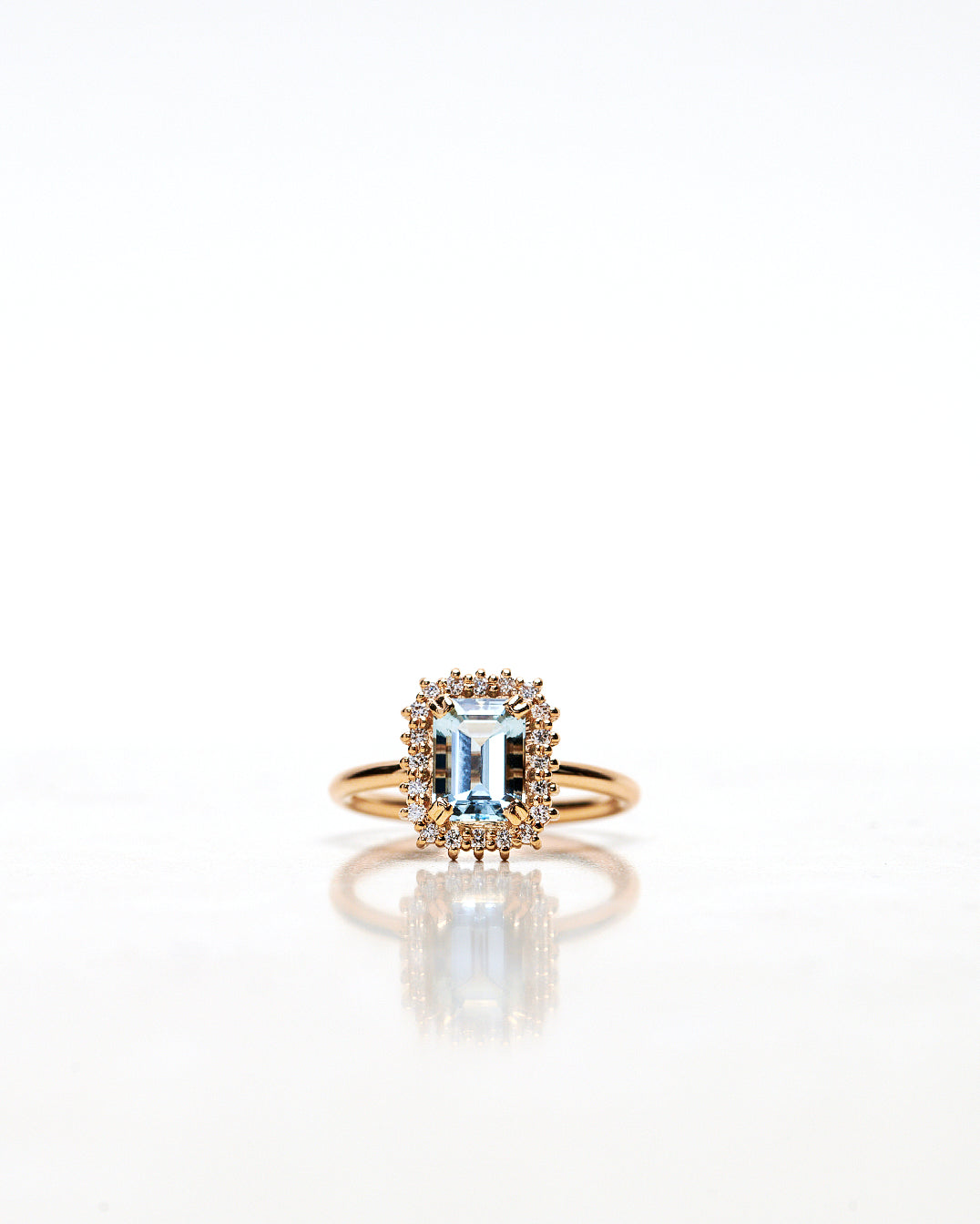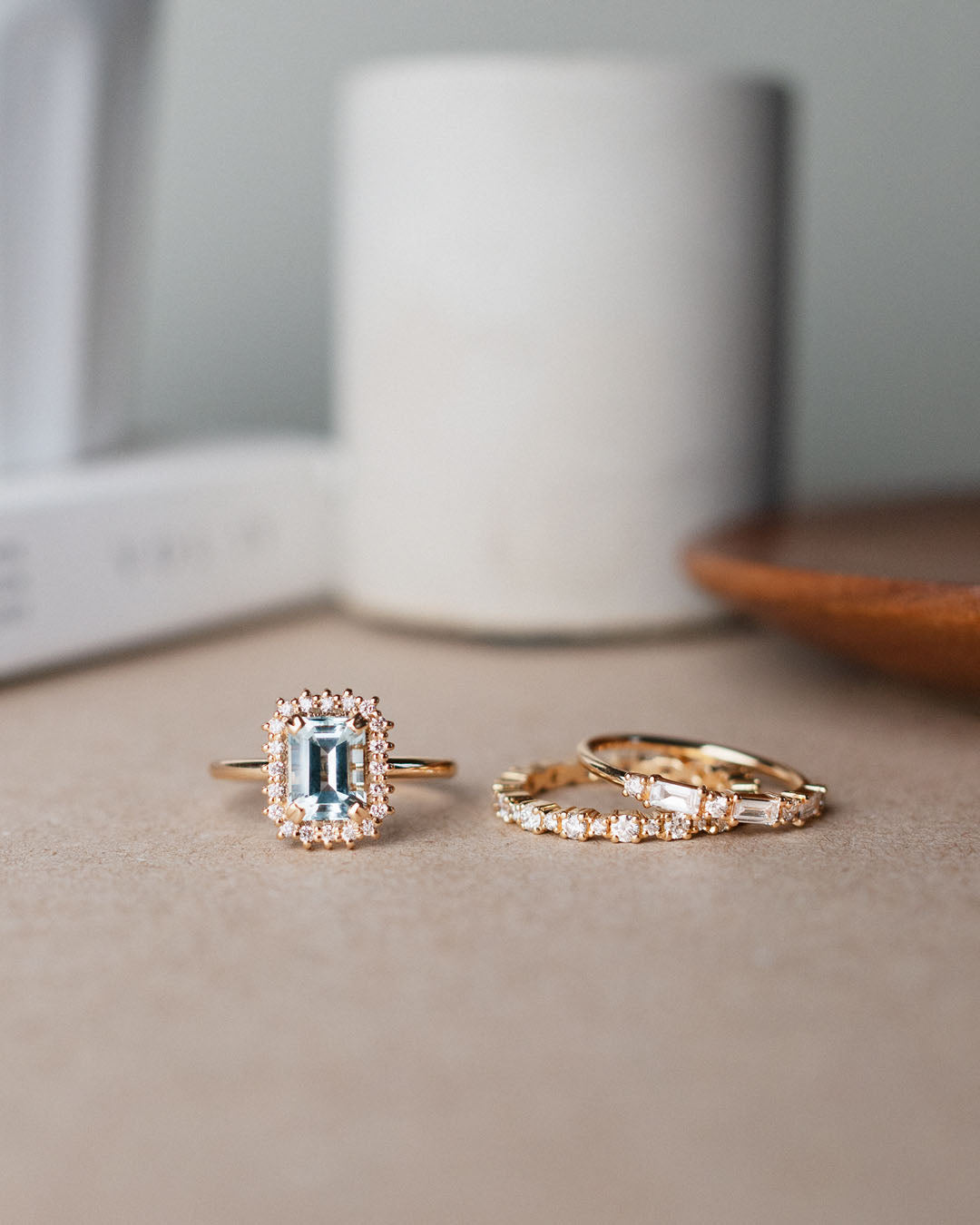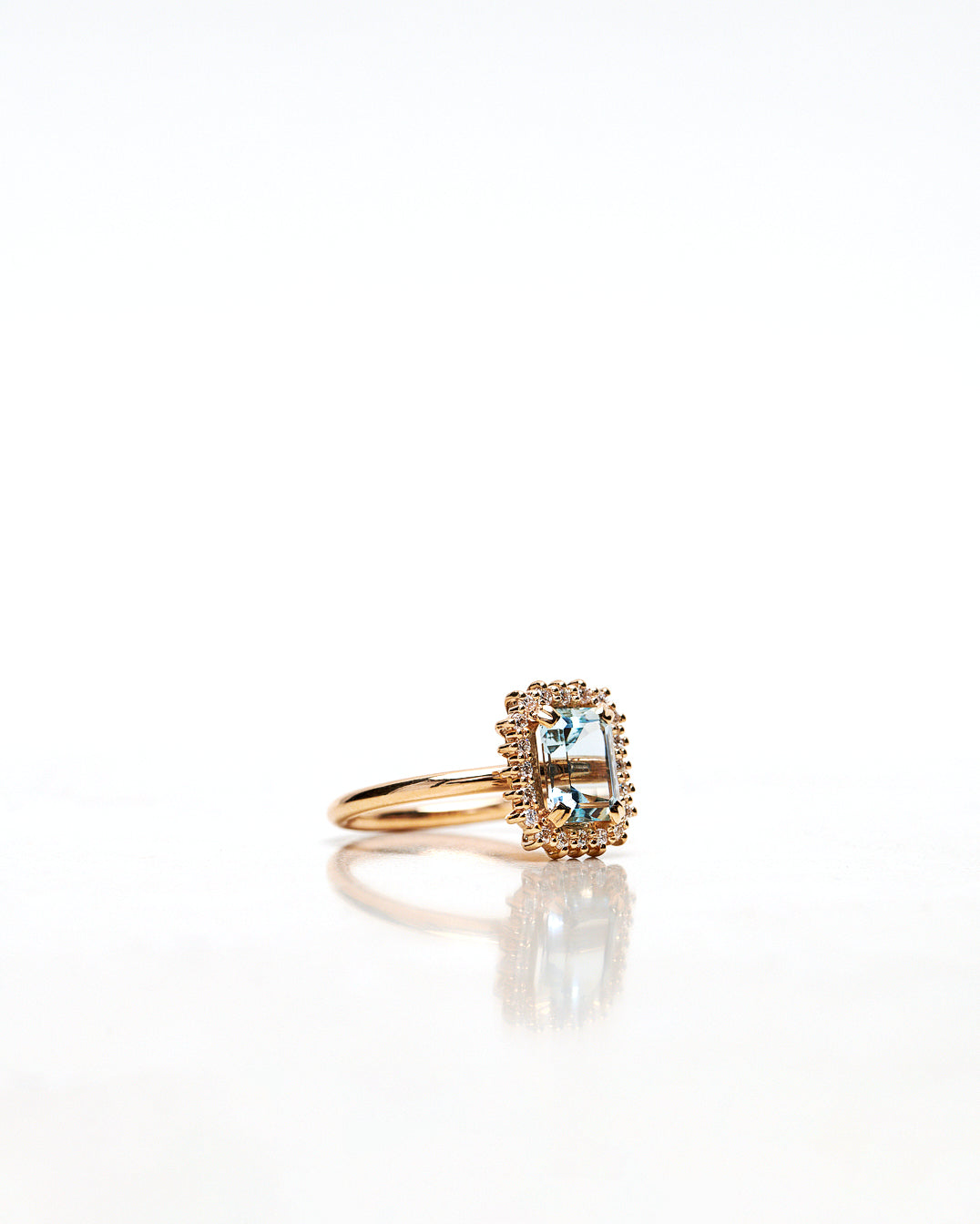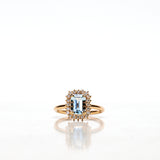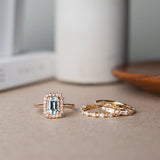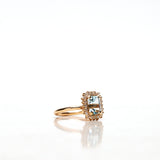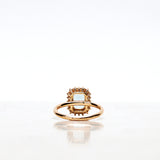 Solitaire Ring with Aquamarine and Diamond Halo
Need help finding your perfect ring size?
---
Why you'll love it
This beautiful ring is a real statement piece. It features a stunning, eye-clean natural aquamarine highlighted by a halo of diamonds. 
We take pride in sourcing the most beautiful, ice-blue aquamarines in a premium cut.
Gemstones
Aquamarine
Aquamarine ranges from 7.5 to 8 on Moh's Scale of Hardness. It is a durable gemstone that will endure everyday wear.
We recommend that you clean your ring regularly at home with hot water, dish soap, and a soft tooth brush to keep the aquamarine sparkling and shiny, and have it professionally cleaned every year. A yearly professional cleaning is always included with your Mumbaistockholm jewelry.
The aquamarine on the picture is sourced from Nigeria. It is completely natural and follows our accepted standards for heat treatment.
Diamonds
Diamonds rank a 10 (highest) on Moh's Scale of Hardness. They are extremely hard and durable, and can be passed down through generations.
Our colorless (white) diamonds are in quality Top Wesselton VS.
We use only natural, conflict-free diamonds certified according to the Kimberley Process.
Stacking 
This ring looks beautiful alone on the ring finger. Since the gemstones are set on top of the ringband, it is also possible to stack it with other rings. 
Details
Made in Sweden from 100% recycled 18K yellow gold.
1.5 mm round ringband.
One 8 mm x 6 mm Emerald-Cut Aquamarine. The aquamarine on the picture weighs 1.35 CT
Please note that your Aquamarine may differ in weight since all colured gemstones are unique and their cutting angles are carefully calculated for each unique stone. The cutting angles decide the depth, which decide the carat weight. However the length x width in millimeter (8x6 mm) will be the same. 
20 x 0.01 CT Diamonds TWVS
We only use natural gemstones and conflict-free diamonds.
Size and Fit
The round, thin ringband makes this ring comfortable to wear. 
Mumbaistockholm Ring Size Guide 
To try the ring on before purchase, we are happy to welcome you into our showroom.
Production and Delivery
Please allow 7-10 weeks for your ring to be meticulously crafted in our studio.
If you have a specific date in mind, please write this in the text box during checkout and we will try to accommodate this. However, we will not be able to guarantee delivery at this date.
All mumbaistockholm jewelry pieces are final sale. 
---
Solitaire Ring with Aquamarine and Diamond Halo
Size & Fit

Free Sizing Kit

Ensuring your perfect fit, effortlessly. Simply add it to your cart at no extra cost!

Perfect Fit Promise

Once in your hands, this ring offers the flexibility to fine-tune its size for a perfect fit.
Production and Delivery

Crafted with Care

Kindly allow 6-7 weeks for our artisans to handcraft your unique piece in our studio.

Special Date in Mind?

Should you have a particular date you're aiming for, kindly mention it in the text box during checkout. While we strive for perfection, please understand that we cannot guarantee delivery on that exact date.

Final Touch of Luxury

Please note, all mumbaistockholm jewelry pieces are final sale, embodying our commitment to crafting timeless treasures.